Powertruss PT COLUMN – Bracing + Load Bearing
The Powertruss PT Column combines the large lateral bracing capacity of the Powertruss PT Brace, but with the added benefit of co-existing load bearing capability. 
The Powertruss PT Column fits between the studs within the building frame and bolts directly to the slab (with the bottom plate removed). For more information, see our installation guide.
Floor and roof loads can bear directly onto the Powertruss PT Column where required throughout the building.  When combined with a header/lintel, the co-existing load bearing capability of the Powertruss PT Column will carry floor and roof loads across large door and window openings, whilst resisting lateral/racking forces through this portal assembly.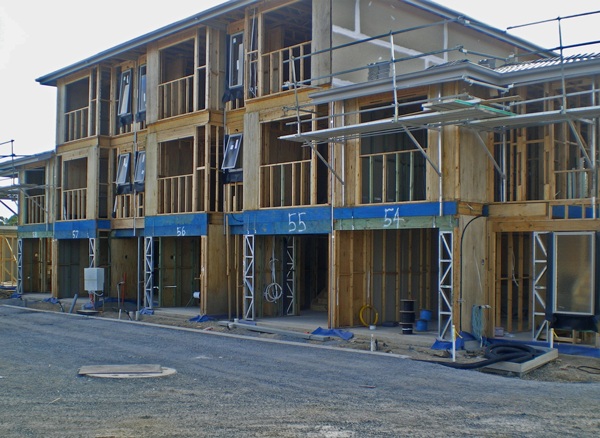 It is NOT necessary to use an SHS to carry the header/lintel as each Powertruss PT Column has co-existing load capacity (in excess of 90kN across the width of the frame) to carry upper floor and roof loads as well as providing lateral bracing up to 21.6kN per metre to the building structure.
It is manufactured in standard frame widths of 250mm, 300mm, 350mm, 400mm, 450mm, 500mm, 550mm, and 600mm to suit returns and nib walls; especially at either side of large window and door openings. The Powertruss PT Column is manufactured to your required height to suit nominated openings.

The Powertruss PT Column can also be used internally to carry large load bearing members on one or either end whilst being concealed within the building frame (Eg. in wardrobes, cupboards, stairs).
Retrofit application of Powertruss frames are becoming more popular in extensions to existing homes, as well as removal homes or house raising situations to allow larger living areas.  Bracing for narrow or small lot homes at garage doors, entries and alfresco areas is made easy by use of the Powertruss PT Column.