New PT Brace® Frame Design
New Bracing Load Tables
Wall Heights up to 4500mm
Easier Installation

PT Brace ®
Lateral Bracing up to 21.6 kN per metre
Powertruss PT Column
Lateral bracing + co-existing floor & roof load bearing capability

Laboratory Tested Engineer Certified BCA Compliant
The Powertruss PT BRACE® narrow wall brace is a light-weight metal truss frame that can be used for all types of lateral wall bracing ranging from N1(W28) to C4(W70) cyclonic, providing bracing values of up to 21.6kN per metre.
Our patented new diaphragm design provides greater strength and rigidity at the base of the PT Brace, enabling stronger U.L.S. bracing loads, and improved access to tie-down bolts for easier installation.
Modern open plan design often features large glassed areas and fewer walls, which can lead to problems in achieving lateral bracing requirements.  Powertruss narrow wall bracing frames are available in 8 different widths ranging from 250mm to 600mm, making them an ideal narrow wall bracing solution for open plan designs. 
Available in both "lateral bracing only" and "lateral bracing + co-existing load bearing capacity" versions, Powertruss frames are a highly versatile narrow wall bracing unit.  They are suited for placement in short or nib walls at either side of large openings such as garages or alfresco's, where sufficient space for ply bracing is unavailable.  All Powertruss frames are manufactured from galvanised steel, giving them greater bracing capacity than their timber-made counterparts.
Powertruss is the strongest pre-engineered steel proprietary wall bracing system available in Australia.  Engineers, Draftspersons and Designers can specify the Powertruss on working drawings with pre-approved engineer certification (click here for downloadable CAD drawings).
Where wall space for ply bracing is insufficient, the Powertruss range of narrow wall braces will solve your problem.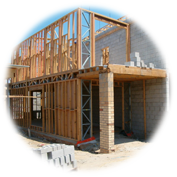 POWERTRUSS PT BRACE
Lateral bracing
Ideal for narrow wall bracing adjacent to large window and door openings
Achieve required bracing values that are not attainable with ply bracing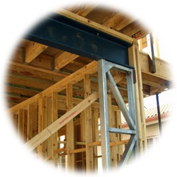 POWERTRUSS PT COLUMN
Lateral bracing + load bearing capacity
Carries headers/lintels at large openings whilst bracing the building structure
No SHS post required- reduces wall space and increases door and window openings
Features
Available in finished frame heights up to 4500mm to suit customers requirements

No protrusions outside 90mm wall frame

No packing of studs required

Allows maximum open plan living and door/window space

with minimum walls

Narrow wall bracing application – large bracing values.

Wall stiffening (conceal in wardrobes or cupboards)

Can be used in both external and internal walls (slab thickening may be required)

Powertruss can also be used in raised floor applications (to the direction of the project engineer).

For use in both timber and steel frame construction, along with alternate building materials such as Hempcrete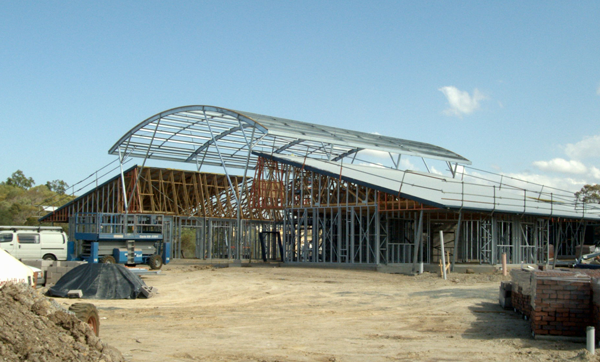 The Powertruss fits between the studs within the house frame and bolts directly to the slab.
Large window and door openings are a breeze, especially where minimum wall space is available for bracing, as the Powertruss has a capacity to 21.6kN per metre ultimate limit state load.
Powertruss frames are used in homes, townhouses, unit complexes and light commercial buildings to provide lateral bracing and wall stiffening, and are especially useful for lateral bracing garage openings and open plan designs where wall space is limited.
All Powertruss frames have Engineer certification issued by Summermore Pty Ltd Consulting Engineers. The Powertruss Wall Bracing System complies with the provisions of Section B, Structures, of the Building Code of Australia (B.C.A.).
The relevant Australian Standard codes, specifications and references relied upon are
• AS/NZS 1170.0
• AS/NZS 1170.1
• AS/NZS 1170.2
• AS 3600
• AS 4100
• AS/NZS 4600
• NCC 2016 BCA – Volume Two Part 2.1 Structures
• Serviceability Limit State Design Loads Limited to AS1170.0 Deflection Limits